Fox Farm has over 30 years of experience in the soil, fertilizer, and plant food industry. With an emphasis on quality products that are formulated to meet the needs of today's gardener; Fox Farm provides best-in-class soils for all your gardening endeavours.
Fox Farm manufactures premium soils for container gardens as well as potting mixes and is committed to providing gardeners with natural ingredients that promote sustainable gardening practices for their homes or businesses. 
Fox Farm is passionate about producing the healthiest soils to ensure that your plants thrive. All Fox Farm soils are greenhouse tested to ensure the highest quality soils possible.
Fox Farm Strawberry Fields Soil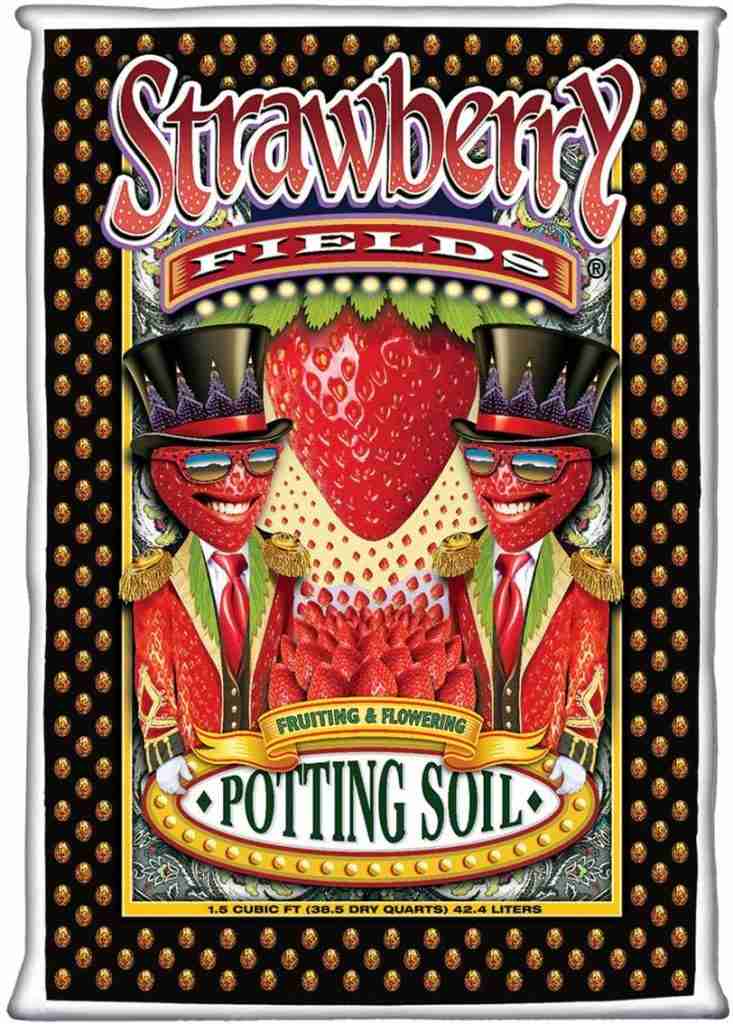 Strawberry Fields is a nutrient rich soil for fruiting and flowering plants. It contains some peat, is coco coir based and better for drainage alongside holding less water than other potting soils. 
It's not good for young plants, but works great with plants coming up to their flowering stage. The combination of worm castings, bat guano, oyster shell, aged forest products and peat moss provides the exact nutrients to make your fruits and flowers really shine!
Worm Castings
Reduced Peat
Coco Coir
Bat Guano
Forest Products
Oyster Shell
Fox Farm Ocean Forest Soil
Fox Farm Ocean Forest Soil is a premium, all-purpose growing mix that has been specifically formulated to meet the needs of containerized plants.
It's ideal for use with both indoor and outdoor containers, as well as raised bed gardens. Ocean Forest has been designed to promote healthy root growth and vigorous plant development by providing essential nutrients in an easily accessible form, while its light, aerated texture promotes drainage and helps prevent over-watering.
Fox Farm Ocean Forest Soil is a blend of earthworm castings, bat guano, sea-going fish & crab meal forest humus, moss and other natural ingredients. It's pH balanced at 6.0–6.5 to encourage strong branching and a sturdy healthy growth habit in your plants. It contains everything your plants need for big yields!
Worm Castings
Bat Guano
pH Adjusted
Crab Meal
Forest Humus
Natural Ingredients
Fox Farm Happy Frog Soil is a premium soil designed for container planting. It's light, aerated texture will help improve root efficiency and encourage nutrient uptake, alongside being pH is adjusted making it ready to use right out of the bag.
This soil has been amended with beneficial microbes that promote vigorous vegetative growth and enhanced fruit and flower production when used in conjunction with the Fox Farm fertilizer line-up.
Happy Frog Soil will deliver a strong plant structure and superior drainage while retaining moisture. It is light, aerated, and  helps improve root efficiency and encourages nutrient uptake. It also contains microbes to help with  enhanced fruit and flower production.
Bat Guano
Worm Castings
Forest Products
Highly Rated
Best Seller
Good Price
Fox  Farm's premium grade Salamander soil is designed for both indoor and outdoor cultivation. It will not compact, allowing for excellent aeration. 
The superior water holding capacity of this soil means plants are kept vigorous without getting stressed from drying out or over watering. 
All Fox Farm's line of soils are teeming with beneficial microorganisms that naturally suppress plant diseases, increase nutrient uptake and stimulate root growth. 
These soils are pH adjusted to ensure nutrient availability for your plants' needs while also providing an ideal growing environment.
Earthworm Castings
Dolomite Lime
Bat Guano
Oyster Shell
Coco Coir
Perlite
Fox Farm Original Planting Mix
Fox Farm Original Soil Mix takes the guesswork out of growing plants. This soil mix is ideal for raised bed planting and amending existing garden beds, as it contains premium ingredients like earthworm castings, bat guano, and micronutrients to provide all the elements needed throughout your plant's life cycle.
Fox Farm Original Soil Mix also includes aged forest products, sphagnum peat moss, and perlite for excellent drainage; all of which add up to make a fantastic soil mix that can be used in conjunction with other Fox Farm soils to help build healthy soil conditions for your potted plants and veggies.
Earthworm Castings
Bat Guano
Sphagnum Peat Moss
Forest Products
Good price
Fox Farm High Standards
Fox Farm has been the leader in supplying premium soil for over 30 years. They offer a wide range of organic and chemical-free products, including potting mix, fertilizers and so much more. Their formulas are designed to meet the needs of your plants at every stage of their life cycle from seedlings to fruit-bearing maturity. 
Fox Farm offers a variety of unique soil blends that will help you grow fruits and vegetables of every kind. We're certain you'll find a Fox Farm soil that meets all your requirements!